I've been awake for 2 hours so far, and I've already had an interesting morning. I've been google searching and just playing around on the computer to wake myself up.. I just found my old e-photoalbum. Its been about a year or more since I've actually looked through this. I completely forgot about all of the previous jewelry we've made.
It's nice to see how my mother and I have grown as designers. I still can't believe I forgot about this page. I added a couple of pictures here, in case you're curious (you know you are).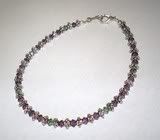 Well, I should get my day started seeing as how it's already 11:30 and all I've done today it putz around on the computer.